Carmen and Bruce were the first couple we did a wedding for that we had not previously met. When I got Carmen's e-mail about booking I was SO nervous. We set up a consultation meeting and Chris and I went to meet them. I was nervous over nothing. Carmen and Bruce were laid back, cool and simply excited about finally getting married.
Normally grooms tend to just sit back and not say anything during the creative process. They just don't seem that interested in giving any input about desired shots. What I loved about Bruce was that he was so involved with this wedding. He had ideas. He had shots that HE wanted. Grooms don't usually do that and that is part of what made this a unique experiance for me. When we did the engagement session with them, Bruce had this great idea for a shot. He tried to explain to me what he wanted from the shot, I'm still not sure if I did it the way he wanted, but these are the shots that came from his idea. Carmen was a photographer's dream bride. She wasn't picky, she never went into Bridezilla mode (even when you could see she was stressed) she was a ton of fun and not only was she a beautiful bride, she was simply easy to shoot. It is always nice when your job is easier than it should be! Clients are great, but it is so amazing to be able to take it a step farther and be able to say that I truly made a friend. That is one of the reasons why I will not ever forget working with Carmen. She is just that cool.
When the wedding day finally arrived we got to meet everyone. Meeting the family is always tough on a photographer because while you do need to know who is important to be sure to get shots of, remebering who is who, names and which side of the family they belong to is SO HARD. I got to spend alot of time with Carmen's Mom and Step Mother. I think that they loved seeing me squirm because I could not for the life of me tell which was which. I was too embaressed to ask. I will say that I am proud of myself for figuring it out eventually. The fact that I couldn't tell was pretty neat. Working with the families of this couple was a great experiance.
My favorite part of any wedding is the Bride and Groom shots. As a photographer you get to witness their special day and freeze a moment in time that was special to them, and that is an amazing feeling.
Bruce and Carmen looked like models out of a magizene add for David's Bridal. The shots Chris and I got of them blew our minds. This was my favortie shot from their Bride and Groom session. I took a similar shot but this one of Chris's seriously made me do a double take.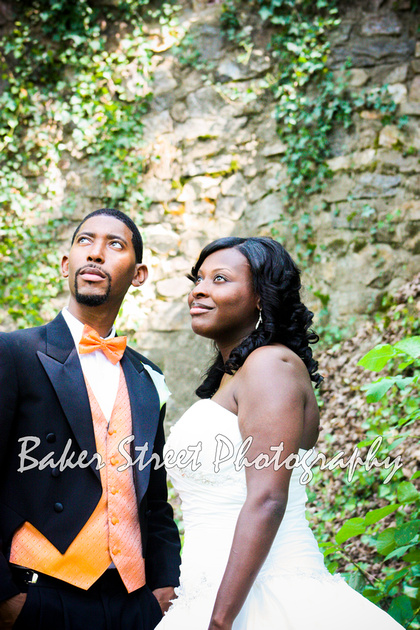 We had a blast working with this couple. We wish them the best in life. They have a love that will last. You can't look at them and not see it.
--- Faith Baker